Follow Us on Facebook


Labels

Tuesday, January 31, 2012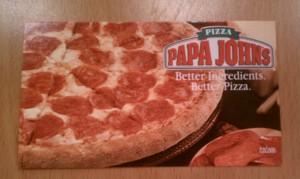 Enter now to win 1 of 25 Free Large 1-Topping Pizzas from Papa John's

Winners will receive a card containing an online code to be redeemed at
papajohns.com
for one FREE large 1-topping pizza. Valid for carryout or delivery at all corporate Arizona locations (includes most Phoenix Metro locations). Code expires 12/31/13.
Click here to enter.

A random drawing will take place on the evening of Sunday, February 5th. Winners will be posted on Facebook and also contacted via email address entered. Limit 1 entry per person.